Let me start by quoting a verse from the holy scripture Bhagavad Gita, a part of Indian Mythology, the great epic Mahabharata. The life lessons taught by Sri Krishna to Arjuna, are gems of knowledge which are very much relevant and applicable to make our lives better even today.
sukha-duḥkhe same kṛitvā lābhālābhau jayājayau

tato yuddhāya yujyasva naivaṁ pāpam avāpsyasi

~ verse 38, Chapter 2 Bhagavad Gita
The above shloka tells us to view both happiness and sorrow, loss and gain, victory and failure with the same outlook. To not get over excited if you gain or drown in sorrow if you lose, instead look at things with a balanced state of mind, only then we can be happy and reap the rewards of our actions in the long run. A very enlightening verse which indirectly tells about the importance of gratitude and resilience.
This is just one of the teachings we learn from the vast treasure trove of Indian mythology. Indian mythology tales are not just fascinating stories about the past, but also a great way to teach kids about the important life lessons and moral values.
How to get the kids interested in Indian mythology?
Listening to stories about Ramayana or Mahabharata from our grandparents was always a dear pastime of our childhood. This narrative can be made even more lively if it is accompanied by story books with attractive illustrations to help them visualize the characters and story line. It would definitely act as a foundation for our kids to explore the amazing world of Indian mythology and acquire its knowledge as they grow.
I started searching for mythology books which are colourful and interactive when I started narrating stories to my kid. I found some excellent books out there as Indian publishers seem to have realised the importance of Indian mythology books.
Books that I will be mentioning below are best suited for kids of age group 3-12 years. These have beautiful illustrations and simplified stories written by Indian mythology authors which are bound to engage small kids and early readers.
List of Indian Mythology books for kids: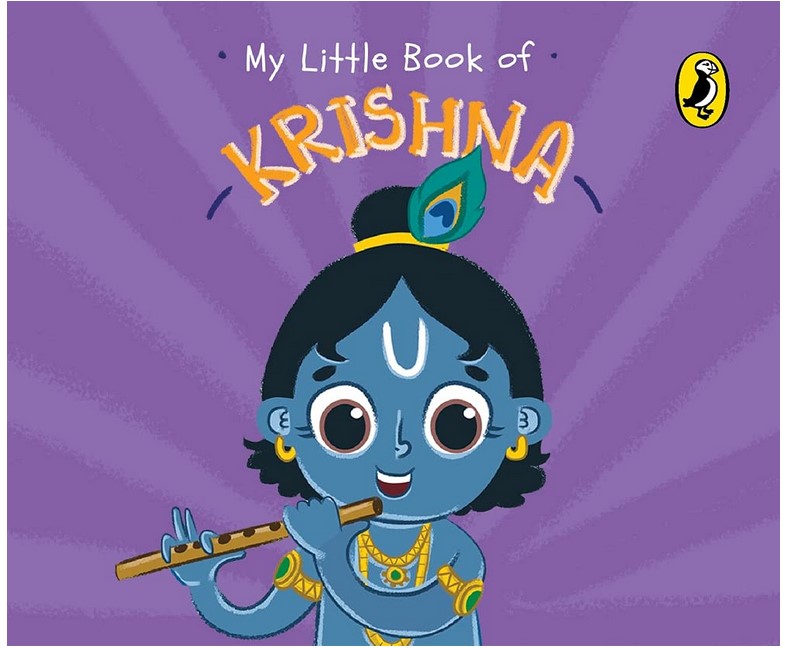 Recommended age: toddlers, 3-8 yrs
Pages: 22
Publisher: Puffin
Author: Ashwitha Jayakumar.
This board book is a perfect choice to introduce kids to Indian mythology. These beautiful books are put together by Penguin India Editorial team and are well written by Ashwitha Jayakumar.
The book has super cute and colourful illustrations. It has minimal text which is written in rhythmic poetic sentences, which makes it super fun to recite and is simple enough for kids to follow and recall.The artwork is very pleasing and attractive. There is also a "find the hidden objects" page which is a joy in itself for the kid.
Other books in the series are
Overall, all 3 books are very well designed and would highly recommend it as an addition to the kids book collection.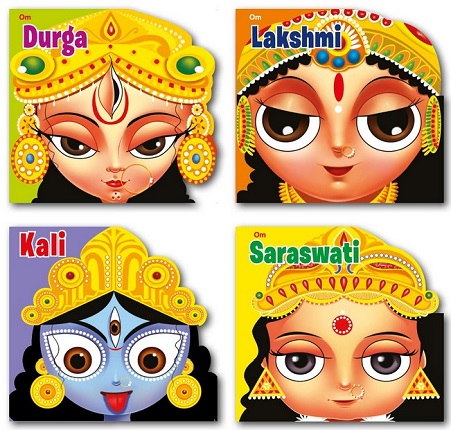 Recommended age: toddlers, 3-6 yrs
Pages: 10
Publisher: Om Books Editorial Team
These books speak about the gods and goddess of Indian mythology. The narrative is short and simple. The books are sturdy to be handled by small hands. They have just right information about the gods and goddess.Bright and colourful illustrations and the cut-out shape of the books are sure to attract the kid's attention and get them interested to read and explore more on the subject.
Other books in the series are as given below: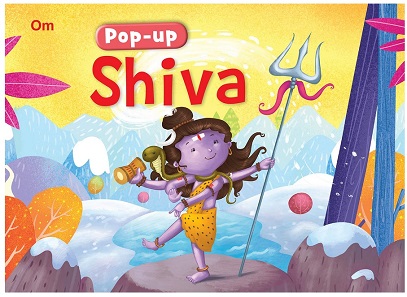 Recommended age: 3- 8 yrs
Publisher: Om books international
Pages: 10
This is an interactive book with pop up cut-outs of scenes and characters related to the descriptions related to Shiva in each page.
The sentences are not simple but are very informative. For younger kids, we need to read and explain. Slightly older kids, who can read can enjoy and explore the book on their own. A beautifully designed book with detailed and attractive illustrations. A nice addition to the kids bookshelf and nice introduction to god and goddess of Indian mythology.
Other books in the series are:
Pop-up Hanuman, 2. Pop-up Ganesha, 3.Pop-up Lakshmi, 4. Pop-up Durga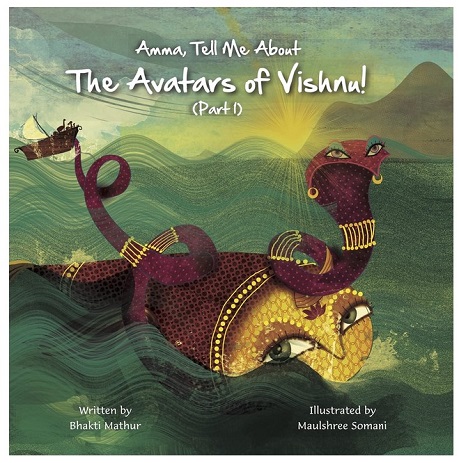 Recommended age: 2-8 years
Publisher: Anjana Publishing
Pages: 36
Author: Bhakti Mathur
"Amma, Tell me About" series has very creative presentation and a very well written books on topics related to Indian mythology by Bhakti Mathur.
Here I am reviewing the book that talks about the Avatars of Vishnu. Very unique and beautiful illustrations and the writing is very poetic and pleasing to read. It explains about 9 avatars of Vishnu and is very descriptive. I do not want to give out the story spoiler here but the book is written so well that even I liked reading it very much. It took me back to the times when I heard to stories from my grandma.
These books are designed to get the kids of these days interested in Indian mythology stories and connect to our history in a fun and creative way. A very good book to improve language and vocabulary as well. Younger kids will need assistance to read but will surely enjoy the lively illustrations while we read aloud the story. Overall, a great book to gift or buy for your kids.
There are many books in the "Amma, Tell me About" series. I have mentioned some below:
The series has beautiful and amazing books on Indian Festivals as well, which is a must read for kids.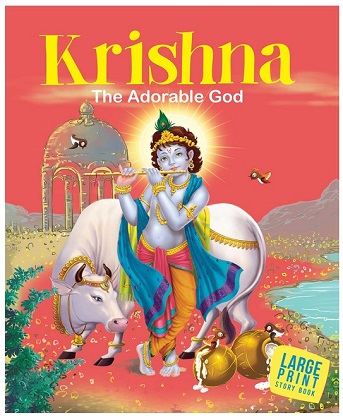 Recommended age: 5-10 yrs
Publisher: Om books editorial team
Pages: 80
Author: Sunita Pant Bansal
The storybook is about the events in the life of Sri Krishna from Indian mythology epic Mahabharata.
This is a hard cover book with shiny pages. The book is printed in child friendly font. It had beautiful pictures and illustrations from the story line on every page. This helps the child to imagine the story and its characters while we read/narrate the incidents. A good book for kids older than 5, who can read or understand long sentences and lengthier story lines.
Other books in the series: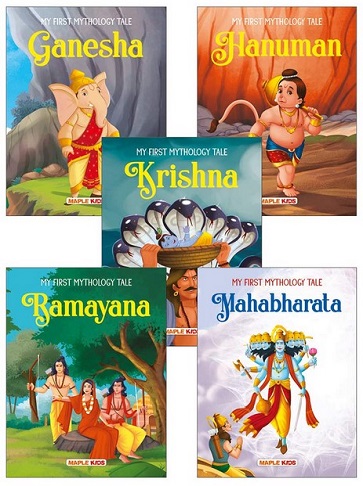 Recommended age: 3-6 years
Publisher: Maple Press
This is a set of 5 books, consisting of a single story of 5-6 pages each. Each book contains an Indian mythology tale related to Mahabharata, Krishna, Hanuman, Ganesha and Ramayana.
The book is designed for smaller kids with simple and minimal sentences. It has colourful and attractive illustrations with short and crisp narrative. The books are great as an introduction to the fascinating world of Indian mythology. The books help to spark the interest of kids in Indian mythology tales, which we can build on with other stories later on.
Recommended age: 6-12 yrs
Publisher: Om books
Pages: 236
Author: Dipavali Sen
This is a very interesting books with short stories from the Vedas, Upanishads and Puranas. The author, Dipavali Sen has written the stories in a very interesting lucid narrative. The books is for kids older than 6 yrs, smaller kids will find the stories bit complicated to understand.
Each short story is accompanied with an illustration related to the context of the story. The book has vast information and great collections of stories from Indian mythology. A great book with in-depth learning about facts from Vedas, Upanishads and Puranas in the form of creative and colourful stories.
A highly recommended book for those who want their kids to know about the roots of Indian culture and mythology.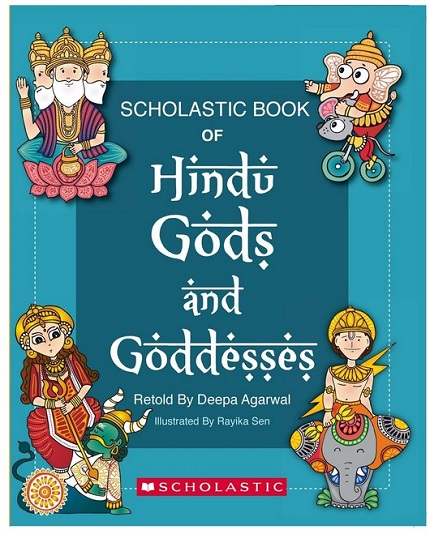 Recommended Age: 6-12 years
Publisher: Scholastic
Pages: 144
Author: Geeta Agarwal
This book is a beautiful collection of 10 tales from Indian mythology, retold in simple, child friendly, easy to understand words. This makes it a good choice for read aloud to young kids and independent young readers.
It has attractive artwork of the gods, goddesses and other characters of the story line. The 10 tales narrate incidents from the life of Ganesha, Rama, Shiva, Indra and Krishna. The stories are very interesting and well written by the author.
A good book to add in your child's Indian mythology story book collection.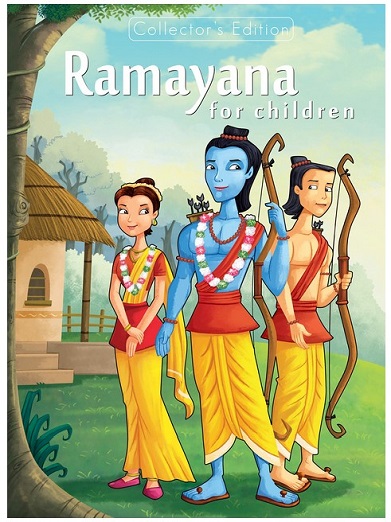 Recommended age: 4-8 years
Publisher: B Jain Publishers Pvt Ltd
Pages: 192
Every child should know about epics Ramayana and Mahabharata from ancient India. This book has a beautiful depiction of Ramayana. The book has quality pages with attractive pictures from the story being narrated in every page. The story is written is easy to understand language and the narrative is sure to get the kids interested in the book.
A very good book on Indian mythology to know about our history and culture. It is also a very easy to comprehend book and will help improve language and vocabulary in kids.
Other books in the series are: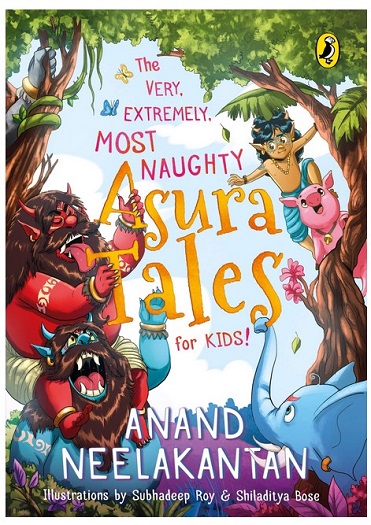 Recommended age: 7-12 years
Publisher: Puffin
Pages: 184
Author: Anand Neelakanthan
This is a very unique book which narrates the stories of demons or asuras mentioned in the Indian mythology tales. The author, keeps the tone of the story humorous with witty narrative. The hilarious stories of asuras as naughty kids, be it Bhasmasura, Atapi-Vatapi, Bhasma and pet pig Nakura, Kundakka-Mandakka, Shumba – Nishumba, Banasura to name a few are bound to keep your kid fascinated.
This book is a cool way to get your interested in Indian mythology. The book also has amusing poems to accompany the stories and make a good read-aloud book.
The book is recommended for kids older than 6 years. A must have book in your kids Indian mythology book collection.
Conclusion:
These are my recommendations of books, on stories from Indian mythology for kids under the age 12 years. But some books are a pretty good read for older kids and adults as well.
Let us teach our kids the importance of Indian mythology and its influence on our culture and traditions. Let us help them connect to the roots of our history by telling them stories and giving them books that they will cherish, as they grow older. Let them learn from the teachings of these epics and pass on this fascinating and vast knowledge for generations to come.
Hope you find this helpful. Which book was more interesting and fascinated your kid? Let me know in the comments section below.
Happy reading!!
Also Read:
5 Best books with Moral stories for kids