We are all born as empty vessels which can be shaped by moral values.

~ Jerry Springer
Inducing moral values and life lessons in kids is an important but difficult task for parents. It is not easy to make kids understand the difference between good and bad just by talking about it. Books that narrate moral stories and also have beautiful illustrations help to do this easily.
Every kid is fascinated by a good story book that will take them to various places, let them meet new characters and take them on a ride in the imaginary world. Kids don't feel bored but instead connect and realize the value of these moral lessons better if it is in the form of fascinating stories.
The content and context of the story influences the way a child feels and understands a particular moral value. It could be kindness, empathy, loyalty, fairness, caring, helping, authority, righteousness or gratitude. These books also talk about importance of mother earth, saving water, not polluting the environment, preserving nature, etc.
As a parent, we try innovative ways to inculcate moral values in out child, but we soon run out of ideas. These colorful story books that talk about morals and life skills help us achieve this effortlessly. Story books keep the concept interesting and kids eventually will get into a habit of reading and gathering information without our indulgence.
I have listed 5 categories of books with collection of moral stories for kids. These are books with stories from:
Panchatantra
Jataka Tales
Hitopadesha
Aesops Fables
Stories of Tenali Raman
These stories and fables have been here for a long time and have gone through lot of revisions and rewriting. But their original intent and gist of every story still remains. There are many publishers with books on these stories. I have listed down 2 books in each of these story collections. The mentioned books are pictorially appealing and easy to read books which will attract kids attention and interest.
Books on Panchatantra Stories
Panchatantra stories is a collection of animal fables. Written by Vishnu Sharma, to teach moral values and governing skills to the 3 princes of Amarasakti. It is originally a Sanskrit work in verses and prose.
These contain interrelated stories and are divided into 5 parts as described below:
Mitra-Bheda: Contains 30 fables which talk about conspiracies and causes that lead to loss of friends or breaking up of allies.
Mitra-samprāpti: This contains 10 fables which emphasize the importance of team work, friendship and alliance. How by mutual support and cooperation even the weak with different skills can outwit and overcome threats and live happily.
Kākolūkīyam: This collection of 18 fables talks about how words are mightier than sword and how good always wins over evil. It also talks about strategies of war and peace.
Labdhapraṇāśam: A collection of 13 fables which are used to teach moral values. They talk about how to avoid peer pressure and cunning intent of others.
Aparīkṣitakārakaṃ: Consists of 12 fables that tell readers to think before they act. It talks about how to not jump to conclusions without checking the facts to avoid regret on actions later.
Panchatantra stories are translated in almost every major language in India and there are also many versions in languages around the world.
Here are some book recommendations of Panchatantra stories:
Publisher: Wonder House Books
A 160 page book which compiles 101 tales from Panchatantra. Every story comes live with colorful illustration of the characters. The language used to narrate the stories is very simple and easy for the kid to understand and also read on their own.
The book has good short stories with moral lessons, the moral being mentioned at the end of each story. Though some stories do feel over simplified in some places, the book has a very attractive design to attract the kid and encourage reading.
Overall, a good book containing moral stories for kids with lively pictures and a good collection of Panchatantra fables.
Publisher: Amar Chitra Katha Private Limited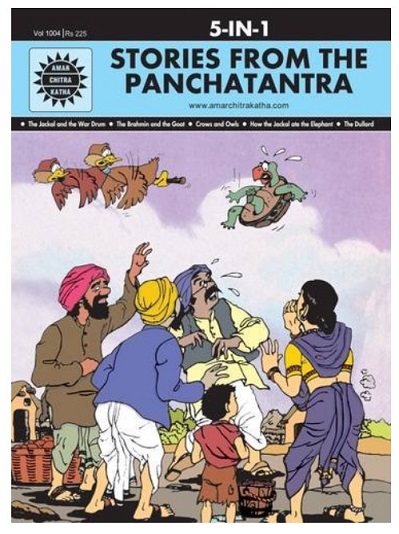 Being an admirer of Amar Chitra Katha comics from childhood, I could not help myself but recommend this book. It consists of 5 selected fables from Panchatantra. These are: The Jackal and the War Drum, Crows and Owls, The Dullard, How the Jackal ate the Elephant and The Brahmin and the Goat.
The comic book portrays the animal characters that talk and have feelings and emotions. The illustrations bring life to the characters and stories are described beautifully. Every story talk about moral lessons and win of good over evil.
Books on Jataka Tales
Jataka Tales are stories that talk about previous lives of Gautama Buddha in both animal and human form. The tales consist of extensive list characters who interact and get into various kinds of moral and ethical dilemma and the character of Buddha intervenes and resolves the issues.
These are said to be stories of Buddha and the experiences he went through before attaining enlightenment. They are filled with moral lessons and life lessons which are very helpful to the child to look at life in a positive and responsible way.
Publisher: Om Books International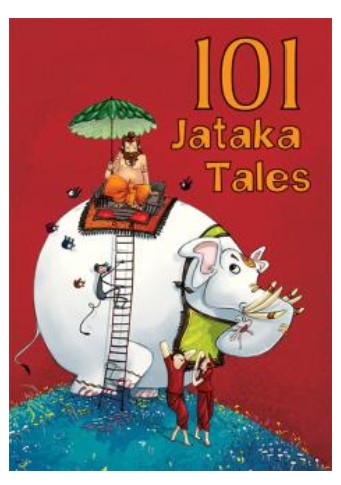 This 128 page book consists of 101 stories from Jataka Tales. Nice colorful illustrations. The stories are short and written in simple, easy to understand language.
These short moral stories have scenarios which will teach the child life lessons and about good and bad. The illustrations make the book interesting and keeps the child engaged and turning pages. The narration is a little difficult for kids below 7 years to read on their own as it has big words which would require an elder to elaborate the meaning. Nonetheless, a good book with nice moral lessons for kids.
Publisher: Amar Chitra Katha Pvt. Ltd.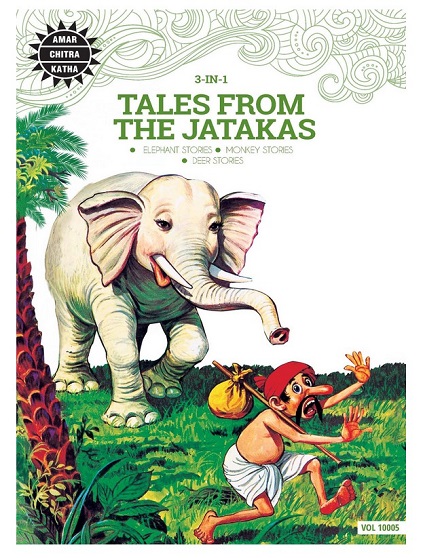 This is a 96-page comic book consisting of 3 different story lines. The elephant stories, monkey stories and deer stories.
The comic book illustrations are very nice and catchy. The story description is well justified with the lively illustrations. A good read with good moral lessons for the child.
There are many other collections of Jataka Tales by Amar Chitra Katha which you can explore.
Books on Hitopadesha
Hitopadesha can be translated as Good Counsel/Beneficial Advise. It consists of Sanskrit verses written by Pandit Narayana, that are fables which consist of animal and human characters. Hitopadesha stories are written on similar lines of Panchatantra stories. It appears to be an independent take of Panchatantra and other works that inspired Pandit Narayana.
Hitopadesha has 4 books. The stories are very good to teach kids on valuable moral lessons and advise for the welfare and benefit of all.
Publishers: Manoj Publications Editorial Board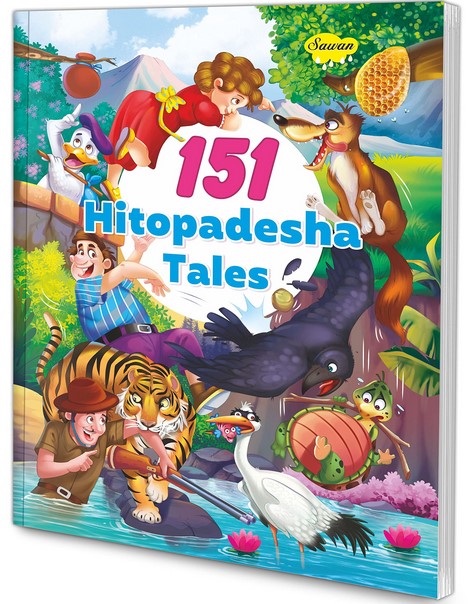 An 80-page colorful book with short moral stories from Hitopadesha. The stories are written in easy-to-understand words and are short and sweet, just enough to keep the child interested and not make it boring.
Illustrations are bright and attractive making it a page turner for sure. The stories have good moral lessons relating to topics on good and bad friends, how envy can spoil good friendship, how greed, bad leadership, wicked ideologies lead to conflict and war, how peace can be achieved. It talks about good virtues and treating other with respect and understanding.
Overall, a very nice book with good moral stories for your kid.
Publisher: Amar Chitra Katha Pvt. Ltd.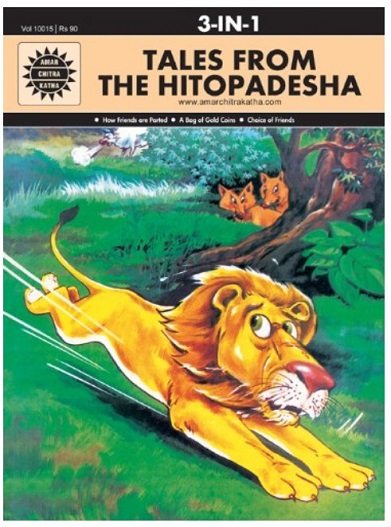 This is a 96-page comic book which consists of three tales, How friends are parted, A bag of gold coins and Choice of friends. Just like any other Amar Chitra Katha comic, this book also has beautiful and expressive drawings. Very well illustrated and lively conversations bring the stories to life. A delightful read.
Books on Aesop's fables
Another set of age-old fables that teach a moral or lesson. These fables are credited to Aesop a Greek storyteller. Aesop's fables were mostly word of mouth and were orally passed on stories for a long time and were written later on.
Aesop's fables talk about good and bad human behaviors. The fables are represented by animals acting/behaving as humans.
Publisher: Dreamland Publication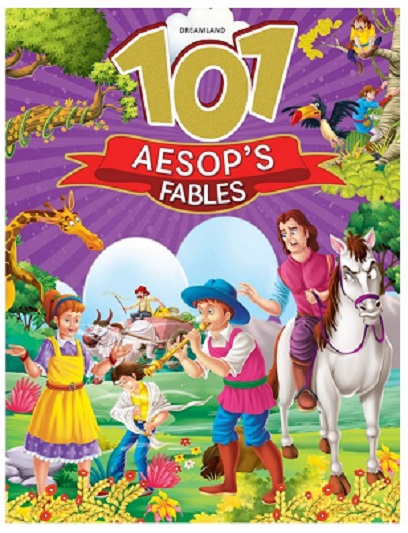 A very colorful story book consisting of 64 pages. The stories are short and simple with easy vocabulary. Kid friendly text and vibrant pictures makes this book interesting for the child. The moral is written after each story.
The stories are shortened and for smaller kids we may need to narrate and make them understand the connection to the moral. Nonetheless, a very good book with nice moral lessons that talk about right and wrong, treating others with respect, importance of truth, friendship, team work, faith etc.
Publisher: Om Books Editorial Team
This large print book has colorful pages with beautiful drawings. The story is written in easy to understand language with no compromise on the story line. The book consists of 8 stories from Aesop's fables. Due to its big print and attractive pictures, this book is worth buying.
Books on Tenali Raman Stories
Tenali Ramakrishna was a poet in the court of Sri Krishnadevaraya. He was known for his intelligence and wit. He was called as Vikata Kavi which translates to clown-jester-poet due to his wit and sense of humor.
The stories of Tenali Raman are not just witty and funny, they also have deep moral values and lessons on good-bad, just-unjust and fair play.
Publisher: Wonder House Books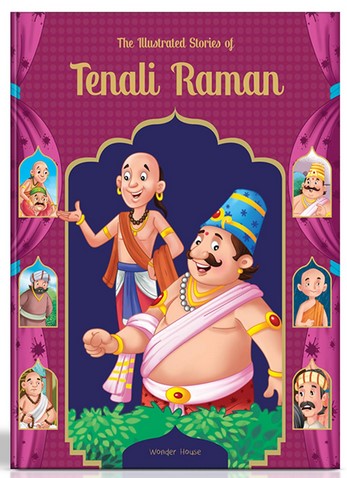 This beautiful book of 80 pages consists of witty and humorous stories of Tenali Raman. How Tenali Raman manages to handle difficult and tricky situations and gives good counsel to the king on matter of justice.
Book has good narration and attractive pictures. The stories are interesting and captures the kid's attention. This well written book with good moral stories for kids is a good addition to the child's book collection.
Publisher: Amar Chitra Katha Pvt. Ltd.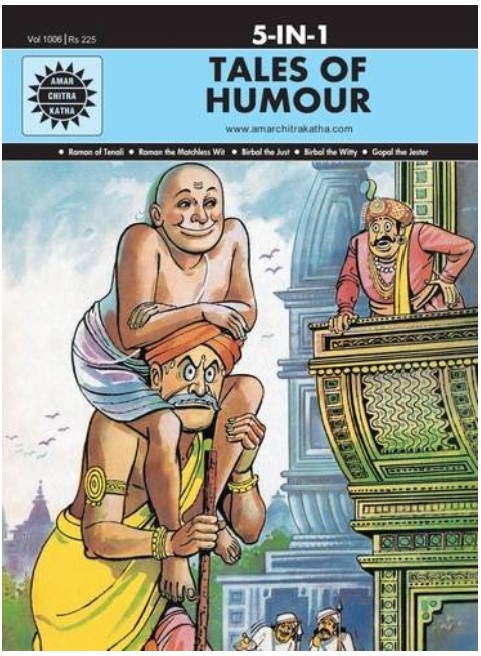 A comic book of 160 pages, brings the 2 stories of Tenali Raman to life. This book has 2 stories of Birbal and 1 story of Gopal the Jester as well. As any other Amar Chitra Katha book, illustrations are very extremely good which make the stories more interesting. Kids will be engrossed in the books for a long time due to its lively character depictions.
Conclusion:
These are the 5 books with collections of moral stories for kids which I highly recommend. For small kids, the stories have to be narrated as they would find it difficult to read and understand the deeper moral.But for the age group 8-14, these books make a delightful read and are a very good source of moral and life lessons.
Happy reading and let me know which stories you liked the most in the comments section.