Ever found yourself in a tight situation when your child is throwing tantrums?
Did your child get angry or cry for a trivial reason? Is your child sometimes too loud or too happy to control?
It is perfectly alright for small kids to express their feelings intensely. But, is the child able to correctly understand what he/she is feeling? Only through understanding, the child will be able to regulate and express it better.
This is when, we need to give a thought to build emotional intelligence in our child.
As a parent, we always focus on making our kids smarter. Smart and intelligent doesn't involve just cognitive skills, vocabulary, comprehension, math skills and reasoning.Development of IQ alone is not sufficient, if we want our kids to lead a happy and successful life. Helping the child grow healthy emotions is also very important.
Emotional intelligence will help them cope with their feelings and overcome tricky situations in life. It will help them grow resilience, empathy and social skills to lead a better and happy life.
What is emotional intelligence?
Emotional intelligence is the ability to recognize one's feelings, manage them and express them appropriately without hurting and respecting the feeling of others.
Fred Rogers rightly said:
"When we talk about our feelings, they become less overwhelming, less upsetting and less scary."
So let us give some thought and help our kids recognize their feelings and emotions.
How to build Emotional Intelligence and What are its benefits?
Create awareness:
First we need to help the child name their feelings.They should be able to distinguish if they are happy, sad, angry, confused, in pain, nervous, or surprised. This self-awareness will also help them know their strength and weakness.It will also help you understand your child better. Talk to them about it, so they can understand whether others think or feel the same feelings which they are going through at that point.
Help them to Regulate their feelings:
Once they identify their feelings, slowly teach them to think and control. Tell them to take a deep breath, think and then react. Over time, they will be able to calm themselves, modify/adjust their emotions and control them according to the need of the hour.
Show and teach empathy:
Empathy will take your child a long way in life. It will make the child to be sensitive to the feeling of others. It will help the child to let go of selfishness and not give over importance to one's own feelings. In the long run, it will develop the ability to work smoothly with others/team. It will teach them to emotionally connect to others and look from their point of view.
Motivate your kids:
Always encourage your child's curiosity and let them be brave to explore. Show enthusiasm along with them and help them learn from their mistakes. Create a supportive, caring and loving environment and don't let them get disheartened by tricky/hard situations.
Develop Socio-Emotional skills:
Socio-emotional skill involves awareness about body language and manners. It is the ability to control their impulses in a social environment and express their opinions clearly and gracefully. This will teach the child to respect the opinions for peers and elders. In future, this is very much essential as it develops leadership, skill to coexist in a working environment and to work as a team with others.
Build Resilience:
Resilience is a very important ability which every child requires in today's competitive world. Resilience is to build the confidence and capacity to bounce back from failures. Making the child emotionally strong to accept failures/disappointments and teaching them to cope with hard situations will help them spring back to normal life easily when they grow up. This will help them navigate smoothly through the ups and downs in life as an adult.
Expressing Gratitude:
Teaching the child to be thankful to people and appreciate the facilities/comfort they have in their life, is not just about being polite/having good manners. It also makes them realize the importance of family, friends and how much they have in life. This attitude of being grateful for small things will bring a ray of hope and light in their life later on by helping them cope with discouraging situations.
Books to improve emotional intelligence in kids:
There are many books available in the market today, to make our work easier. I am listing down some books, which are graphically appealing to the child and will make them go through them happily.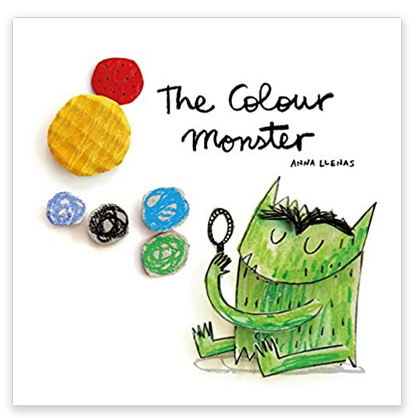 A beautifully illustrated book which follows the journey of a color monster with confused feelings. The book talks about how the color monster learns to sort his feelings with the help of a little girl. It portrays an interesting concept of sorting feelings by colors. This book will surely appeal to small kids as the text is simple and easy to read.
2. Be Kind by Pat Zietlow Miller (Author), Jen Hill (Illustrator)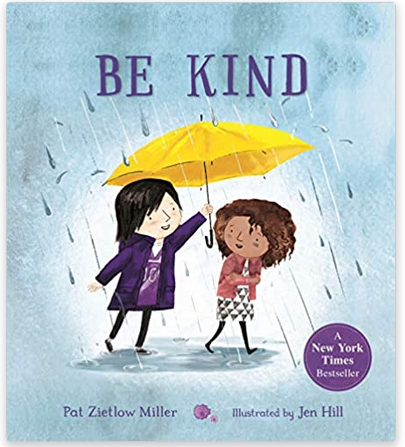 How to define kindness and make a child understand it? This book definitely explains it beautifully. The book tells the story of a girl who tries to understand how to be kind in different situations. The story is simple and thought provoking, accompanied by detailed and relatable illustrations. A must read for young children to make them understand, how a little thought towards your actions and a little kindness can change the world.
3. Are your emotions like mine? by Chitwan Mittal (Author), Shruti Hemani (Illustrator)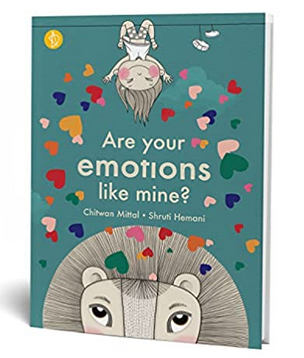 Explaining emotions to children is a difficult task, though it is an integral part of our lives. This book follows the journey of a lion and a girl who go through a range of emotions. Easily comprehension, accompanied by pleasing illustrations is sure to attract your kids attention. If you want to teach your kid "think before you act", this book can be your first step.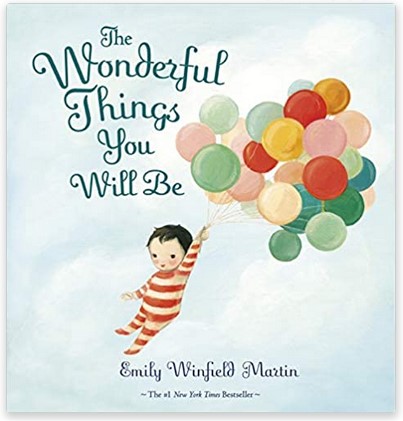 Ever wondered what your child will be when they grow up? This delightful book will give you pointers. A gorgeous book with very attractive illustrations. The writing is simple and rhyming, making it a joyful experience to read it to your kids. Such an encouraging book which gives out a positive message of love and acceptance of the future possibilities.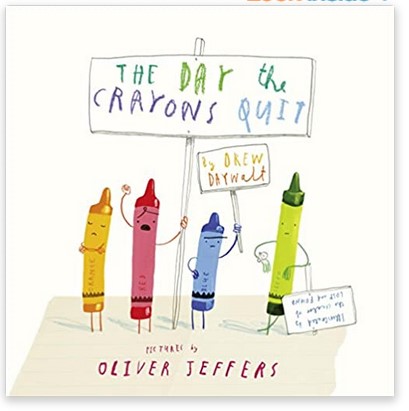 This amazing book by Drew Daywalt describes the feelings of crayons in the form of letters which are humorous and fun to read. Beautifully illustrated letters written in kids handwriting make it even more attractive. An innovative style of writing which brings out the thoughts of crayons with a distinct approach. By giving relatable reference to the feelings of crayons, the author indirectly tries to teach the kids to be thoughtful, considerate to the feelings of others and to treat them well. A must read for young children.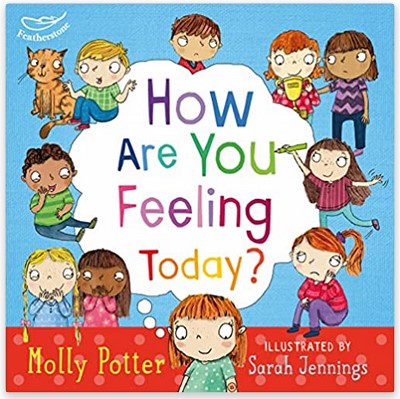 Do you need a guide on how to express your feelings? Then this is the book for you. Kids are easily overwhelmed by their feelings. This book gives them ample interactive ideas on how to express and deal with feelings along with an understanding that every emotion is normal. The book has an interesting layout and colorful illustrations which will keep the child engaged.
7. You, Me and Empathy by Jayneen Sanders Sofia Cardoso (Author)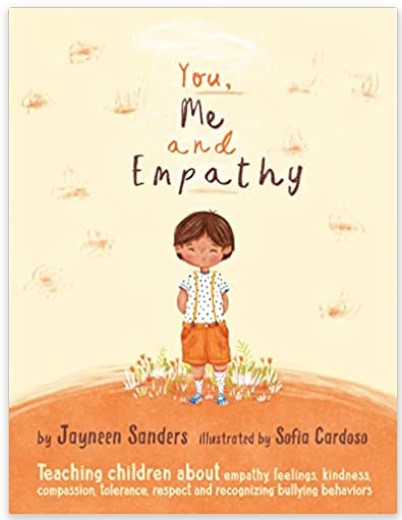 Do you know how I feel? This is something we should ask a kid every now and then. Understanding the feeling of others is a very important social skill. It is not so easy to make a child understand this vocabulary of emotions. This amazing book makes the job easy with a delightful story of a little boy Quinn. Quinn shows kindness and compassion by interpreting the feelings of people around him. This is an ability that every child should nurture and learn.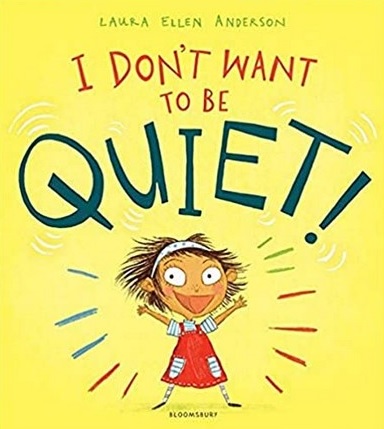 You have a noisy kid in the house? Then you will really find this book helpful. An interesting book with simple story line and hilarious illustrations. The book talks about a little girl who likes to be really loud and noisy, as it is lots of fun. What happens when she tries to be calm, observing and listening to things around her? Is being quiet also fun and exciting? Do we get to learn a lot of new things? Read the book to find out. The funny rhyming text is undoubtedly a treat to read and you will definitely read it many times.
9. My Body Sends A Signal by Natalia Maguire (Author), Anastasia Zababashkina (Illustrator)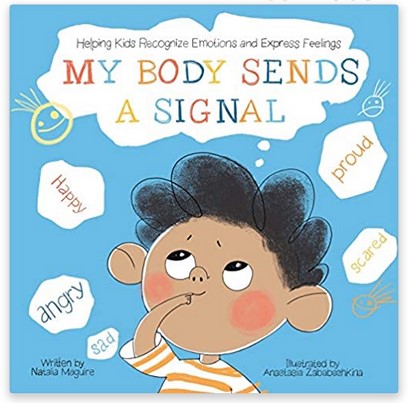 A beautifully illustrated book which will help the kids, to develop the right vocabulary to express their feelings. The book explains how it is absolutely OK to have any kind of feeling whether good or bad, but expressing them in the right way is important. This book explains that emotions, which the author decodes as signals from the body are connected to the feelings we experience. This fantastic book will make a great addition to your child's book library.
10. All About Feelings by Felicity Brooks (Author), Mar Ferrero (Illustrator)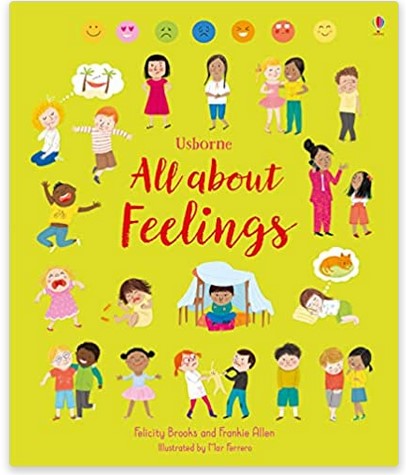 A colorful book with vibrant illustrations and different scenarios to help kids understand and name their feelings. This book is bound to trigger conversations as you go through the pages. A wonderful book to guide kids on how to deal with their feelings and learn to regulate them. A must read for kids for varied age groups, not just the little ones.
A special mention of one more interesting book.
I'm Calm by Jayneen Sanders (Author), Cherie Zamazing (Illustrator)
I found this e-book by chance, on Educate2Empower Publishing website. A very simple and nice book illustrating and describing how a little kid can overcome anxiety and remain calm. Educate2Empower is an award winning publisher. You will get some amazing books, printable resources, activities and worksheets to create awareness in children about social and emotional intelligence, body safety, gender equality etc, on their website.
Conclusion:
Hope you will find this list of books helpful. All the books mentioned are picture books which make for a great read along with your kid.
I will be reviewing more books on the topic in my future articles. What do you think about this book list? Do let me know your feedback in the comments section.
Happy Reading!!!!
Also read: 5 Best books with Moral stories for kids